Skip to Main Content
It looks like you're using Internet Explorer 11 or older. This website works best with modern browsers such as the latest versions of Chrome, Firefox, Safari, and Edge. If you continue with this browser, you may see unexpected results.
Computer Information System
Computer Information Systems links the worlds of business and computer science. It is the study of business organizations and the programming, databases, and networks that support them. Functioning at the intersection of business and technology, it offers an education that neither discipline alone can provide. That education is in great demand because organizations today are dependent upon technology to streamline functions, decrease costs, and communicate with their customers.
This program offers a solid background in the analysis, design, development, deployment, and administration of computer-based information systems within a business management context. Students will complement business skills with strong technical skills in databases, systems analysis and design, business processes, organizational behavior, networking and telecommunications, and project management, along with problem-solving skills.
Subject Classification for Computer and Information Sciences
| Subject | Class/Call Number |
| --- | --- |
| Science (General) | Q1-390 |
| General | Q1-295 |
| Cybernetics | Q300-390 |
| Information theory | Q350-390 |
| Probabilities. Mathematical statistics | QA273-280 |
| Analysis | QA299.6-433 |
| General | QA1-43 |
| Electronic computers. Computer science | QA75.5-76.95 |
| Computer software | QA76.75-76.765 |
| Technology (General) | T1-995 |
| Communication of technical information | T10.5-11.9 |
| Industrial safety. Industrial accident prevention | T55-55.3 |
| Industrial engineering. Management engineering | T55.4-60.8 |
| Applied mathematics. Quantitative methods | T57-57.97 |
| Operations research. Systems analysis | T57.6-57.97 |
| Managerial control systems | T58.4 |
| Information technology | T58.5-58.64 |
| Management information systems | T58.6-58.62 |
| Standardization | T59-59.2 |
| Automation | T59.5 |
| Human engineering in industry. Man-machine systems | T59.7-59.77 |
| Work measurement. Methods engineering | T60-60.8 |
| Technical education. Technical schools | T61-173 |
| Telecommunication. Including telegraphy, telephone, radio, radar, television | TK5101-6720 |
| Computer engineering. Computer hardware | TK7885-7895 |
| Industrial relations | HD6958.5-6976 |
| Cost and standard of living | HD6977-7080 |
| Social insurance. Social security. Pension | HD7088-7252 |
| Vocational rehabilitation. Employment of people with disabilities | HD7255-7256 |
| Industrial hygiene. Industrial welfare | HD7260-7780.8 |
| Labor policy. Labor and the state | HD7795-8027 |
| Labor in politics. Political activity of the working class | HD8031 |
| Professions (General). Professional employees | HD8038 |
| By industry or trade | HD8039 |
| Energy industries. Energy policy. Fuel trade | HD9502-9502.5 |
| Mineral industries. Metal trade | HD9506-9624 |
Focal Person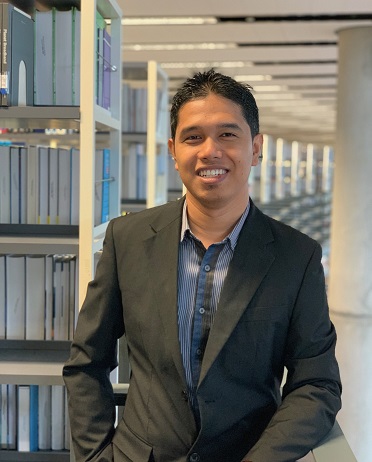 Mohd Fadzly Aziz